DR. PEACOCK & BKJN EVENTS CORDIALLY INVITE YOU TO THE MAD MASQUERADE
ARE YOU BEING YOUR TRUE SELF OR THE MASK YOU WEAR? IT'S TIME TO STEP OUT OF THE ORDINARY AND INTO OUR INEVITABLE INSANITY. AN UNPARALLELED CELEBRATION MARKED BY THE CRAZINESS OF FREEDOM AWAITS…
DO YOU DARE TO JOIN PEACOCK IN CONCERT & TAKE OFF YOUR MASK? WE'RE ALL MAD HERE…
Peacock in Concert 2023 – Mad Masquerade will take place on the 4th of March from 13:00 until 23:00 at the SilverDome in Zoetermeer, The Netherlands.
TICKETS
GO TO THE TICKET SHOP


LINE-UP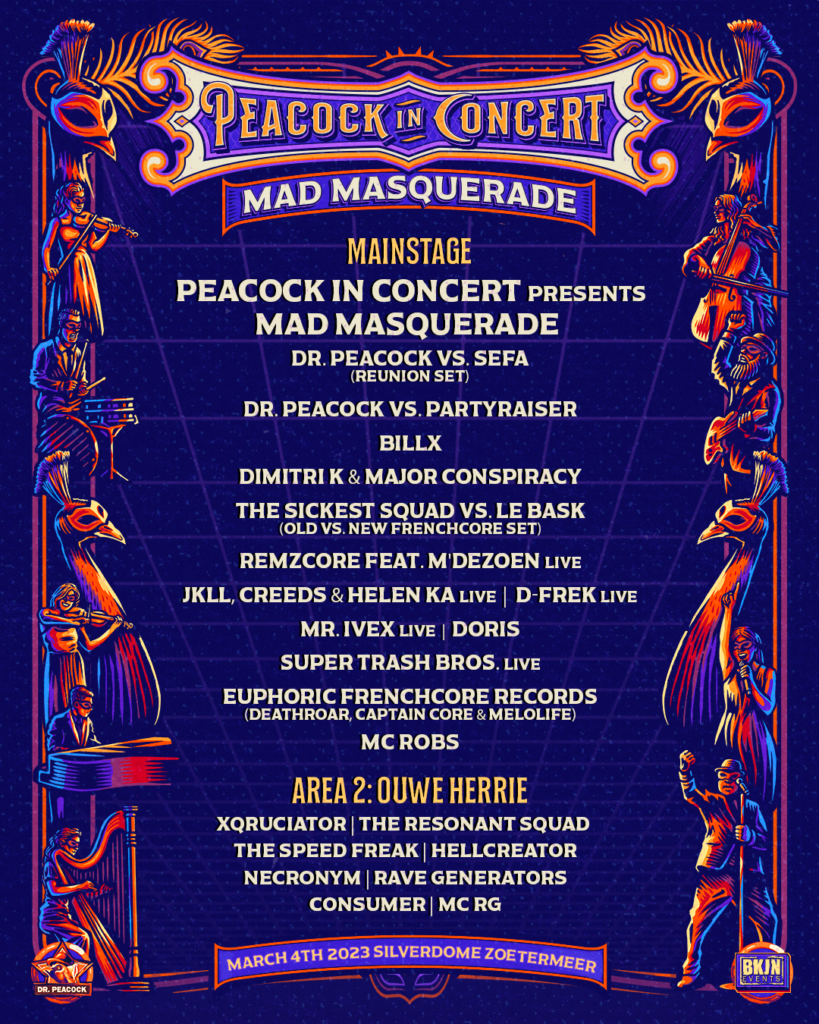 JOIN A UNIQUE MUSICAL EXPERIENCE
Peacock in Concert is a unique and one-of-a-kind musical experience. Together with an amazingly talented live orchestra, Dr. Peacock will take you along in the 'Mad Masquerade' Show.
Enjoy the full spectrum of frenchcore: from Peacock style to euphoric, early and hard psy – all combined with classical music! Bringing you unreal show elements and epic entertainment to top it all off, you definitely don't want to miss out on this experience.
Join the biggest Peacock in Concert in history!
Date: 4th of March
Time: 13:00-23:00
Location: SilverDome, Zoetermeer

TRAILER